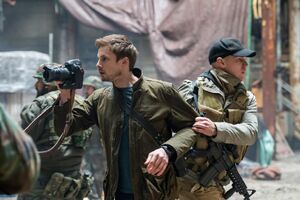 On his 30th birthday, while documenting life in war-torn Syria, photojournalist Damien Thorn encounters a mysterious old woman who awakens within him long-buried memories of his childhood, the first in a series of dark events that lead him to uncover the truth about his identity.
Gospel (summary)
Edit
Revelations (trivia, gaffes, nitpicks, etc.)
Edit
Scripture (quotes)
Edit
Signs (gallery)
Edit
Ad blocker interference detected!
Wikia is a free-to-use site that makes money from advertising. We have a modified experience for viewers using ad blockers

Wikia is not accessible if you've made further modifications. Remove the custom ad blocker rule(s) and the page will load as expected.