Marion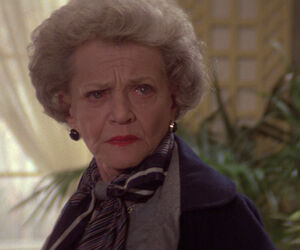 Marion while watering plants in Damien - Omen II.
Age:
Unspecified (Mid 70s - Late 80s)
Marion was Mark and Damien Thorn's aunt. She was killed by the Raven.
Biography
Edit
Marion, an aunt of Richard and Robert, was left 27% of thorn industries by their father. She favoured her nephew Mark, but saw her other nephew, Damien, as a bad influence.
One night, while Marion, Richard and Ann are having dinner with Charles Warren to discuss ancient artefacts excavated in Israel by Thorn Industries, Marion demands that Richard separate Mark and Damien; threatening to give the 27% of Thorn Industries that she owns away to charity if he doesn't. Enraged, Ann and Richard have Marion leave the dinner at once.
Later that night, while Marion is in bed,
the Raven
comes into her room and wakes her up. Marion then suffers a heart attack and dies on the bedroom floor.

Her corpse in found on the floor by Ann the next day.
Relationships
Edit
Marion despised Damien and saw him as a bad influence on Mark. Even when Damien tried to be polite to Marion, she responded nastily and negatively to him, and she even tried to blackmail Richard into getting Damien away from Mark. The reason Marion despised Damien because she knew something was weird about him.
Marion liked and favoured Mark, and was happy and warm to him. She also tried to blackmail Richard into getting Mark away from Damien for Mark's safety.
Though Ann tried to be polite to Marion, Marion responded negatively and believed that Ann saw her as forgetful and old. When Marion demanded that Mark and Damien be separated, Ann became enraged and short-tempered towards her.
When Marion started something involving her hatred towards Damien, Richard became more short-tempered and angry towards her.