Holly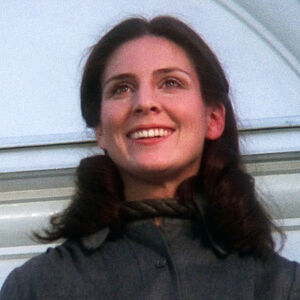 Holly seconds before hanging herself in ''The Omen (1976)''.
Age:
Unspecified (Mid 20s - Mid 30s)
Holly was Damien Thorn's nanny before Mrs. Baylock. She hung herself for Damien while under a Hellhound's influence.
Biography
Edit
Holly has been Damien Thorn's nanny since the Thorns moved to England when Damien was a toddler.
During Damien's fifth birthday party, Holly comes across a
Hellhound
, which looks her in the eye and influences her into killing herself for Damien. Holly then travels up onto the roof of the Thorn estate and ties a noose around her neck.
She claims to Damien that it's all for him, then jumps from the roof ledge; hanging herself.
A photograph Keith Jennings took of Holly and Damien had a dark, noose-shaped anomaly around Holly's neck.