Cardinal Fabretti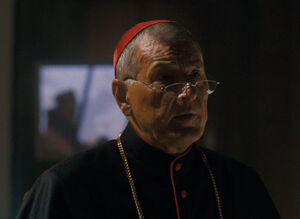 Fabretti at a Church meeting in The Omen (2006).
Age:
Unspecified (Mid 60s - Early 80s)
Fabretti is a Catholic cardinal who recognized the signs of the coming Apocalypse.
Biography
Edit
At 6 AM on 6 June, when the Vatican Observatory notices a comet, Fabretti has a meeting with the rest of the Church over it. He interprets the appearance of the comet, as well as several other man-made and natural disasters that have occurred, as signs that it is the eve of Armageddon.
Five years later, when the Pope is on his death bed, Fabretti stays by the Pope's side, and grieves as the Pope dies.
Ad blocker interference detected!
Wikia is a free-to-use site that makes money from advertising. We have a modified experience for viewers using ad blockers

Wikia is not accessible if you've made further modifications. Remove the custom ad blocker rule(s) and the page will load as expected.