Eugene "Gene" York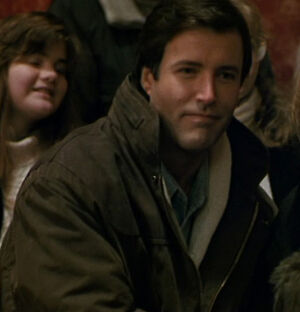 Gene at a horse stable in Omen IV: The Awakening.
Age:
Unspecified (Late 30s - Late 40s)
Eugene "Gene" York was the husband of Karen and the adoptive father of Delia and Alexander.
Biography
Edit
Gene and his wife Karen adopt a baby girl for St. Francis Orphanage and name her Delia. Over the following years, Gene becomes Congressman after the political downfall of Graham Resnick.
When Delia is eight, Gene and Karen hire Jo Thueson as a nanny for Delia until she is killed. At around the same time that Jo dies, Karen, to her and Gene's shock, falls pregnant.
Throughout Karen's pregnancy she becomes paranoid and suspicious that Delia is evil. Gene initially dismisses the strange accidents and abnormalities surrounding Delia as coincidence, but later begins to become unsure.
Gene hires Lisa Roselli as a new nany for Delia, and to his surprise Delia acts sweet towards Roselli. Some time after Karen gives birth to a boy, Alexander, she shoots herself while trying to kill him and Delia; and Gene attends Karen's subsequent funeral with Delia and Alexander.
Relationships
Edit
Gene and Karen were initially a happily married couple, but after Karen became pregnant with Alexander, she and Gene argued over Delia; with Karen believing Delia to be evil, and Gene dismissing it as coincidence.
Delia acted sweet, innocent and cheery towards Gene, and whenever Delia lied about a fight or an incident, Gene would believe her.
Gene and Millican were initially good friends, but when Gene's powerful position as Congressman caused Millican to begin to become greedy, Gene noticed this and began to argue with Millican over the latter's corrupt decisions and influence.
Gene and Hastings appeared to be old friends.