Earl Knight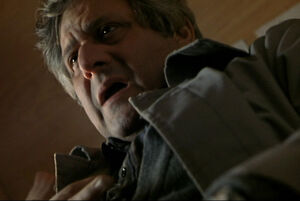 Earl realizes he is fated to die in Omen IV: The Awakening.
Age:
Unspecified (Early 50s - Mid 60s)
Earl Knight was a private investigator who was hired by Karen York to investigate Delia's origins. He was killed after he discovered the truth about Delia.
Biography
Edit
Earl was originally a cop, but became a private investigator at some point.
Earl was responsible for exposing Congressman Graham Resnick's scandalous ways when he photographed Resnick having a half-nude woman pose to him at an apartment.
Some years later, Karen York hires Earl to find the biological parents of the former's daughter, Delia. Earl goes to St. Francis Orphanage, where he discovers that Delia's biological parents are actually unknown.
Earl then traces Yvonne, the former nun at the orphanage who gave Delia to the Yorks, from a bar to a fanatic cult located in North Carolina. When Yvonne is fatally poisoned by several snakes during one of the cult meetings, Earl visits her in hospital and Yvonne explains to him that Delia is related to the Antichrist.
When Earl travels to Yvonne's old trailer to look up Delia's biological parents, he notices two pieces of wood outside the trailer form an inverted cross. Fearful and worried about this, Earl travels into town. There, he begins seeing the town and everything in it as their Satanic doppleganger. After Earl tries to escape these tormenting visions, they eventually stop. Moments later, the wrecking ball of a malfunctioning crane crashes through a building at Earl, killing him.
When Earl was investigating Yvonne's trailer, two wooden planks from an old fence outside the trailer formed an inverted cross.
When Earl was admiring the toys and gifts on display in a shop window (shortly before Earl began to suffer the Satanic visions which would precede his death), a remote-controlled toy crane was among the toys.