Sergeant Daniel Neff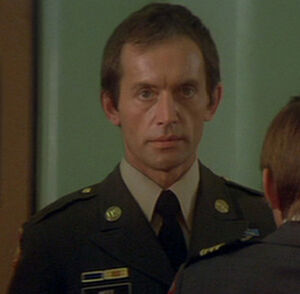 Sergeant Neff with Damien Thorn in Damien - Omen II.
Age:
Unspecified (Late 30s - Late 40s)
Sergeant Daniel Neff was a military sergeant and Damien Thorn's platoon commander. He was also a secret Satanist and an Apostle of the Beast.
Biography
Edit
Neff once stated that he was orphaned. He was a sergeant at Davidson Military Academy, and was also one of the secret disciples of Satan who were part of the plot to ensure that the Antichrist, Damien Thorn, rose to power.
When Sergeant Neff takes over from Sergeant Goodrich as the officer of Damien's platoon, he meets each of the cadets of the platoon in his office. While meeting Damien, Neff takes him under his wing and tells him to come to him should he ever be troubled.
Some days - weeks later, when Damien uses his ability to know every historical event while in history class at the academy, Sergeant Neff takes him from the class. He warns Damien against showing off his powers again, and instructs him to read chapter 13 of the Book of Revelation to discover who he is. When Damien discovers from Revelation that he is the Antichrist, Neff watches as Damien runs from the academy into the woods in horror.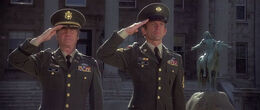 Days - weeks later, Sergeant Neff attends Mark Thorn's funeral with the Thorns, the academy cadets, and fellow disciple Paul Buher. Some days after, Neff attends Damien's awarding of the Officer's Saber at the academy, and the following celebration.
Relationships
Edit
Neff acted as a mentor to Damien and helped him discover his destiny as the Antichrist.
Ad blocker interference detected!
Wikia is a free-to-use site that makes money from advertising. We have a modified experience for viewers using ad blockers

Wikia is not accessible if you've made further modifications. Remove the custom ad blocker rule(s) and the page will load as expected.