Sergeant Daniel Neff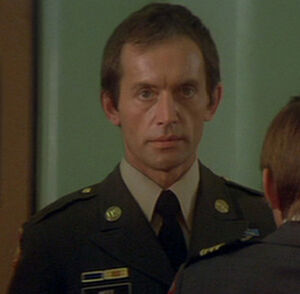 Sergeant Neff with Damien Thorn in Damien - Omen II.
Age:
Unspecified (Late 30s - Late 40s)
Sergeant Daniel Neff is a retired master sergeant in the United States Army and Damien Thorn's platoon commander. He was also a secret Satanist and an Apostle of the Beast.
Biography
Edit
Neff's origins are mostly unknown, save that he is an orphan. At some point, Neff joined the United States Army and served for a number of years, attaining the rank of master sergeant. As indicated by his left shoulder patch, Neff's most recent assignment in the Army was with the 1st Cavalry Division.
Additionally, he wears the following ribbons on the left side of his uniform, indicating personal awards of: Soldier's Medal, Bronze Star, Army Commendation Medal, Purple Heart, Asiatic-Pacific Campaign Medal, World War II Victory Medal, Vietnam Service Medal, and the Vietnam Campaign Medal. Above his ribbons on the left side of his uniform, he wears his Combat Infantryman Badge.
Following the suicide of Sergeant Goodrich at Davidson Military Academy, Neff was hired and made Bradley Platoon's new leader. He was also one of the secret disciples of Satan who were part of the plot to ensure that the Antichrist, Damien Thorn, rose to power. It is implied in the novel that Goodrich may have been driven to suicide by agents of Satan so that Neff could be in a key post where he could assist, protect, and mentor Damien.
When Sergeant Neff takes over from Sergeant Goodrich as the officer of Damien's platoon, he meets each of the cadets of the platoon in his office. While meeting Damien, Neff takes him under his wing and tells him to come to him should he ever be troubled, regardless of what time it is, day or night.
Some days - weeks later, when Damien uses his ability to know every historical event while in one of Chaplain Budman's history classes, Sergeant Neff takes him from the class as Damien ruthlessly wears the chaplain down. He warns Damien against showing off his powers again, and instructs him to read chapter 13 of the Book of Revelation to discover who he is. When Damien discovers from Revelation that he is the Antichrist, Neff watches as Damien runs from the academy into the woods in horror.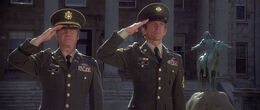 Days - weeks later, Sergeant Neff attends Mark Thorn's funeral with the Thorns, the an honor guard of DMA cadets, and fellow disciple Paul Buher. Some days after, Neff attends Damien's awarding of the Officer's Saber at the end of the school year at Davidson, and the following celebration.
It is unknown if Neff has any further role in Damien's life beyond the events of the second film and novel, but it can be assumed he continued to mentor and protect Damien as long as he attended Davidson Military Academy.
Relationships
Edit
Neff acted as a mentor to Damien and helped him discover his destiny as the Antichrist.